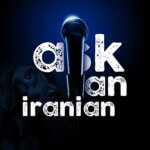 Even the world's fastest-growing religion occasionally needs to take a break. Yes, each year it takes a month-long break and fills it with lots of breakier brakes. Call it a celebration; call it an endurance test — either way, you'll be calling it Ramadan. Although the fundamentals are the same, there are many ways in which different nations go about it. Iran is different, and for many differing reasons, so we wanted to point those differences out. So, until the day that the world's fastest religion becomes the world's only religion, there will still be folks out there that are ignorant of Ramadan. To help correct this, we describe Ramadan: what happens, when it happens and why it happens. Armed with this knowledge, the non-Muslim listener will be able to tread carefully around the fasters. In doing this they will be enduring their "fakefast" by being forced to hide any ingestion.
To help us explain all this and more, we called on a friend of the show. Shanay joined us, not only to tackle this topic but to also taste-test Ramadan foods, both for the fasters and the "fakefasters". On this occasion, she was accompanied by her four-legged friend, Sita, who also gave her opinion on the Iftar, spread. Listen here to hear our verdict, while also learning about Ramadan in Iran.
Questions we also get answers to in this episode
Why do Iranians say Ramazan instead of Ramadan?
What is "Iftar", and what happens during it?
How do I greet somebody on Ramadan in Iran?
When should you fast and when shouldn't you fast?
What's the difference between Ramadan and Lent?
How many days do Muslims fast during Ramadan?
What can I eat for "fakefast"?
Is the Iranian dish "haleem", the worst?
Who's the biggest Iranophile?
Who put the ram in the rama lama ding dong?
How do I follow this episode's guest, Shanay, online?
If you'd like to follow our guest and maybe see how her restoration project is going, you can follow Shanay on Instagram, here.
---
Music credit: "Mahvash, Parivash", Jalal Hemmati
Image credit: "The Ramadan mic and a dog", by Ask An Iranian copyright 2021
Read more and find the links on ASKANIRANIAN.COM
Check the merchandise out on ASKANIRANIAN.COM/SHOP