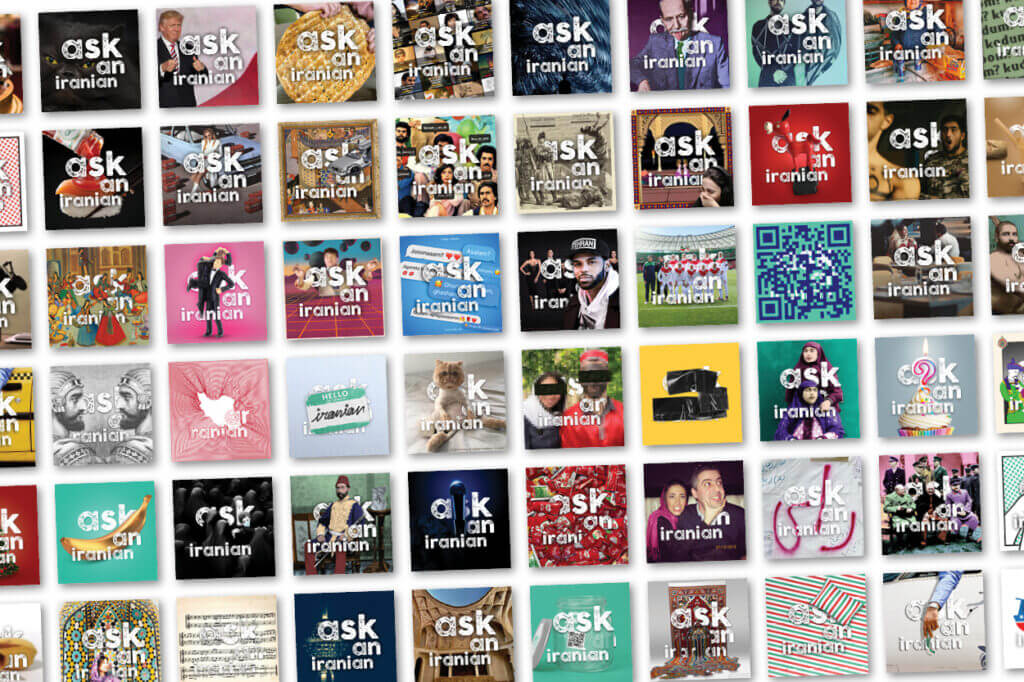 For our 60th episode, we were joined by an Iranian NFT artist — a nice chap that we'll never forgive for getting us into this madness. We'd like to say that he got us hooked, but we were more interested in the fact that there may actually be a way of us making money from our labour of love. Whether we actually make money or not, isn't so important. We're just happy to push the boundaries of free speech, expand our audience and all while exploring creative endeavours…
…well, what we really mean is, "buy our NFTs and feed our egos".
NOTE OF WARNING: in our NFT episode, we advocate the NFT platform, OpenSea. This company restricts activity for people that are related to Iran. Do not use their services if this description relates to you. Similarly, be warned, other platforms may also have such restrictions. Always check a platform's restrictions before setting up an account.
---
Our NFT roadmap explained
We have plans — big(ish) plans! We aim to do the following…
STAGE ONE: E001-E060 EPISODE COVERS
Our first step is/was to release our unique podcast episode covers from the start of the show, up until the point where we got into NFTs. These 1/1 NFTs will/have been released in a staggered way, because… we have day jobs. These covers vary in complexity and detail, so we've created an unnecessarily complex multiplier system to determine their prices. If they haven't all gone, you can purchase one (or more!) when we figure out where we'll sell them.

Rarity costs are explained below


STAGE TWO: E061-E??? EPISODE COVERS
We will continue to create unique covers for each episode but will wait until we have completed 10 new ones before releasing them as an NFT collection. This will mean that the second episode covers collection will be E061-E070. We cannot say for sure when this will happen because releases of the episodes can be a little irregular (we range between weekly to monthly releases).


STAGE THREE: THE OUTRO MUSIC
Our podcast episodes begin with a mad song by Jalal Hemmati and end with a remix of that very same song. All is explained here. We commissioned Aryo of The Devil Dog to make a remix, so we kinda own it. Having said that, we never got anything in writing and aren't even sure if Jalal will come back from the grave to sue our arses for doing this. Assuming we can figure these things out, we'll probably auction it off. If, as, and when this happens, we'll likely announce it on the Ask An Iranian Twitter page and the Ask An Iranian Instagram page, so be sure to follow us there.


STAGE FOUR: AUDIO EXTRACTS
One of the hosts of the Ask An Iranian podcast (not me, David) suggested that we create a collection of short audio (and possibly also visual) content as NFTs. At the time of writing this, one of the hosts (me, David) is yet to understand what the other one means by this. For now, you can assume that he (not David) means things like the short comedy moments we use as promotional material on our Facebook page and our Instagram page.


STAGE FIVE: STUPID SIDE PROJECTS
We can't say for sure what this will involve, but we can say this much. Just before writing this Iranian NFT artist roadmap thingy, one of the hosts (not Mohammad) had an idea for an NFT collection. It relates to the cover artwork for E026, which involves a collection of 6-months' worth of unwanted tomato ketchup sachets. Yes, we expressly ask the fast-food joints not to send them. After photographing that collection, we dumped them. Maybe we'll collect a new lot and release a film of them being crushed/exploded/swallowed.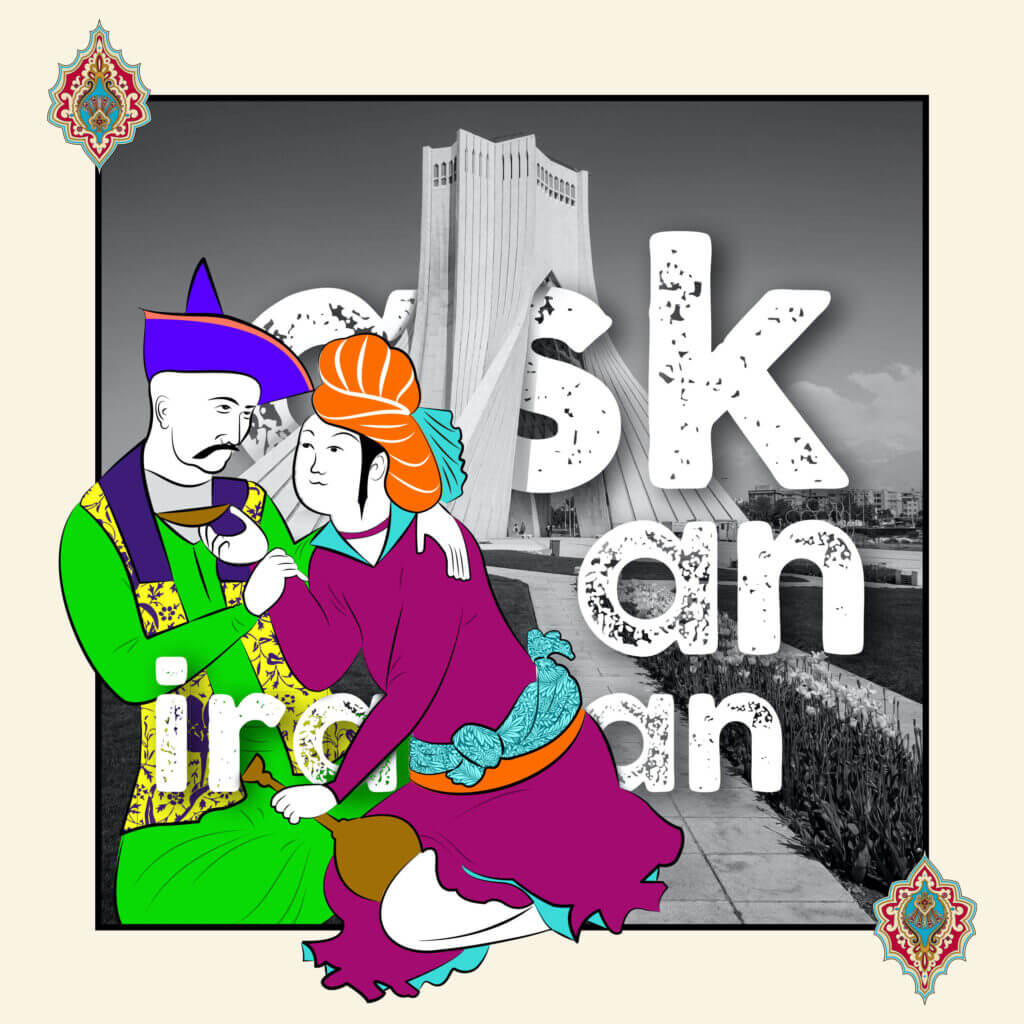 "E060 – WTF are NFTs and why are Iranian artists into them?"
A part of Ask An Iranian Podcast Episode Covers E001-E060.
Created by AskAnIranian in collaboration with NightwatcherXHomadokht
---
Rarity pricing explained for the episode covers
"Experts" have priced our episode covers based on certain features included in the artwork. To help you understand how they have come up with this, we've listed the properties below. Properties listed below with a resulting name that is bold will add to the NFT rarity. The more a cover has of those bold property names, the more the NFT will be priced.
| Property | Name (bold text items add to rarity) |
| --- | --- |
| Collaborative | Co-created / None |
| Logo (our logo) | Interwoven / Above / Hidden logo |
| Remastered (vintage image) | Colourised / Cleaned / Embellished / None |
| Framed | Thick / Medium / Thin / None |
| Interviewee | Depicted / None / Maybe |
| Script | Persian / Pingilish / Latin / None / Code |
| Location | Iran depicted / None |
| Imagery | Original / Stock / Found / Free |
| Year (creation date) | 2020 / 2021 / 2022 |
| Primes (numbers) | Yes / No |
| Cryptic (hidden details) | Shhh! / None |
| Risky (for those in Iran) | Prosecutable / Relax |
| Homo (don't ask) | Maybe / No |
---
Learn about the Iranian NFT art scene
We were joined by the Iranian artist, Nightwatcher, who recently shifted from being a regular real-world artist to an NFT artist. The NF part stands for non-fungible, and the T is for token. This means, his art is minted using certain technologies and made available for people to own the rights to. Control-C and Control-P his stuff if you like, he doesn't mind. You won't own it in the true sense.
This gentleman joined us to chat about the changing world of art with respect to NFTs, but also shared with us his experience of the Iranian art scene. He explains these changes are affording Iranian artists—especially—with a new means to be able to avoid restrictions. During our discussion, we also touched upon how emerging technologies, seen with Web 3.0 for example, are changing people's association with the internet and each other.
So, listen to this episode to get au fait with all things NFTs in Iran.
DISCLAIMER: Ask An Iranian and Nightwatcher are not investment advisers. All opinions are our own. There are risks involved in placing any investment in securities or in Bitcoin, cryptocurrencies and NFTs… or in anything for that matter. None of the information presented herein is intended to form the basis of any offer or recommendation or have any regard to the investment objectives, financial situation, or needs of any specific person, and that includes you, our dear listener or reader. Everything you're going to hear or read is for informational entertainment purposes only.