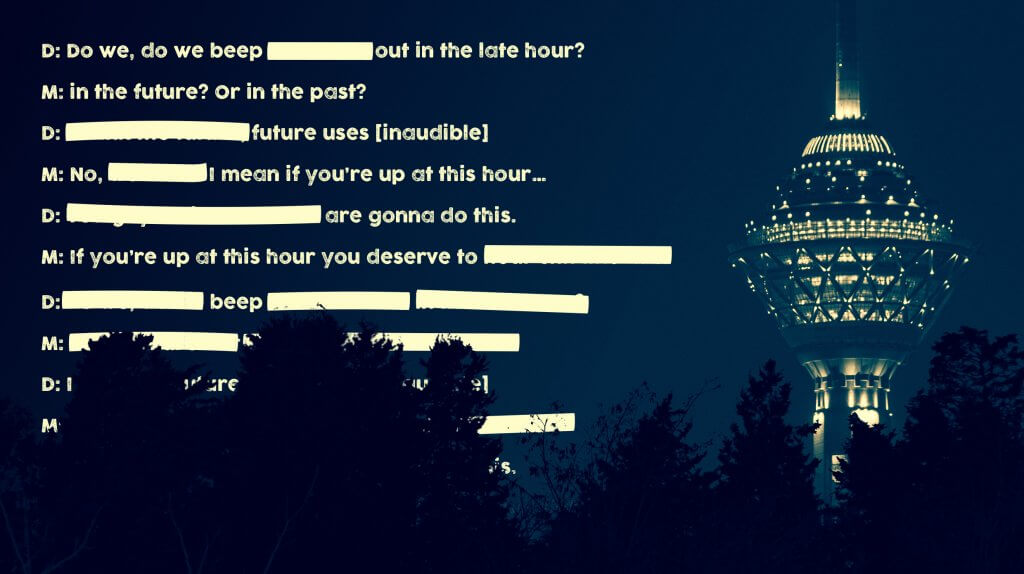 What have we done?! That's a great question — you're a curious one, aren't you! Allow us to explain. So we did a prequel show — but didn't know that it would be a prequel while making it. We'd scheduled a recording with the American-based Persian Girl Podcast at 2am Iran-time, but they were a little delayed. The more industrious of the Ask An Iranian duo decided that the unknown amount of delay should use to create content. The other one of the Ask An Iranian duo—not fully realising what he'd be signing up for—reflexively hit record. This show is the result — for the most part. Also, for the most part, we try and answer the question, "what does Tehran sound like at 2:22am?", but we deviate a lot. Don't say you weren't warned.
Why have we redacted, redacted, redacted?
This show is unedited — kinda. We haven't cut the original recording, but we have redacted some parts, because… reasons. You might very well complain that we haven't redacted enough, because… singing.
Other questions that we get answers to during this episode
What happens at night in Tehran?
Where should you go for munchies at night?
What does Tehran sound like at 2:22am?
How late do kids stay up in Iran?
Do we live in the present — can we ever live in the moment?
When do the Iranian street sweepers work?
What are the scrap-metal traders of Iran saying on their tannoys?
How does Mr Sandman sound when he speaks?
Tell us what you think
If you've ever been in Iran at 2:22am, tell us how you remember it sounding? If not, let us know how your part of the world sounds at 2:22am. Simply comment below or reply to any of our social media posts.
Persian (Farsi) words used during the show
| Persian (Farsi) | English translation |
| --- | --- |
| Kareh khori: | "Butter eating" – the Persian term for "munchies" |
| Ahan, khorderiz: | "Metal, scrap" – used on the tannoys of scrap metal buyers |
| Ta'aroff: | A name given for social protocol |
| Ghormesabzi: | An Iranian stew using various herbs an often containing lamb |
| Khorepoff: | "Snoring" |
| L'Chaim לחיים: | "Cheers" – the Hebrew word it |
---
Picture credit: Majid Hujiloo. Music credit: Bensound – The Elevator Bossa Nova.