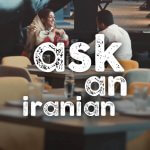 In this episode, we are joined by the proprietor of one of Iran's long-standing cultural hotspots, deep in the heart of Tehran's flourishing downtown district. During it, we'll also be chatting about where to go on a first date in Iran.
Café 78's owner, Mehrva, sat with us to discuss how Iran's café culture has come to dominate the social spheres, and how it has evolved throughout her 18-years of business. We also chat about the challenges of running a café in Iran and learn about why Iranian cafés often get temporarily shut down.
During our discussion with Mehrva, we talk about how her café has been the starting point for relationships and why cafés are common places to go for a first date. So listen to learn about the uniqueness of Iranian café culture, or listen in if you are curious as to where to go for a first date in Iran.
---
Music: "Mahvash, Parivash", Jalal Hemmati
Read more and find the links on ASKANIRANIAN.COM
Check the merchandise out on ASKANIRANIAN.COM/SHOP