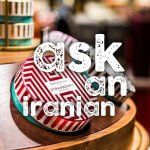 In this episode, we do our very best to answer a question by Murat, who seems to know how important it is to bring Iranians souvenirs.
During the episode, we also tackle other tricky topics, such as:
What things should I definitely not bring as souvenirs for Iranians?
Is it better to bring chocolates or clothing as souvenirs for Iranians?
What size souvenir is an Iranian hoping to get?
What type of souvenirs should I bring for big groups of Iranians?
Why are biscuits from Fortnum & Mason not good souvenirs for Iranians?
What Iranian grandmothers think of £20 Fortnum & Mason biscuits?
As always if you have any other questions about this matter, let us know in the comments section of our website, or if you're Iranian, please tell us what your expectation regarding souvenirs is.
---
Read more and find the links on ASKANIRANIAN.COM
Check the merchandise out on ASKANIRANIAN.COM/SHOP