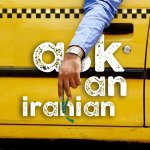 Taxi trips are more than just a means of getting from A to B — they are about the experiences on the journey. Taxi trips in Iran however, are somewhat similar and somehow different. On a taxi journey in Iran, you'll likely be taken through the entire alphabet, but you can at least hop out happy, knowing that you're now 'au fait' on the latest happenings. This is because Tehran's taxi drivers are the most up-to-date resource for politics, the exchange rate, and the latest conspiracy theories in Iran.
To help you have a better experience of getting around Tehran in a taxi, we invited Shanay on the show to share some of her experiences. Shanay is half Iranian, half Austrian, and has recently moved to Iran to embark on a restoration project. During our discussion with Shanay, we also reveal top tips on how to get a taxi in Tehran, where to get it, and how to interact with the drivers. So, taxi stories… what's Tehran got? For nearly everything you need to know about taxis in Tehran, and more, click here…
Questions also get answers to during this episode
What happens when you talk too much in a Tehran taxi?
Will Iranian taxi drivers screw me over on journey prices?
What different types of taxis are available in Iran?
Are there Iranian taxi apps like Uber?
How do Iranian taxis look on the inside and out?
Has Chris de Burgh ever had a concert in Iran? [no]
What type of music do Iranian taxi drivers like to listen to?
What ways did Iranians use for getting taxis before taxi apps existed?
Are there any Iranian taxi-related films?
When Iranians drive up and down, which direction are they going?
Find Shanay on: https://www.instagram.com/shanay.hubmann/
---
Music credit: "Mahvash, Parivash", Jalal Hemmati
Picture credit: Photographer unknown (please contact us for credit). Photo edited by Ask An Iranian.
Read more and find the links on ASKANIRANIAN.COM
Check the merchandise out on ASKANIRANIAN.COM/SHOP