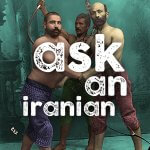 Words of affection, for Iranians, will flow out like endless rain into a paper cup. In fact, the Iranian universe is positively overflowing with them — so much so that even the Iranians can't keep up. If you're new to learning about affection in Iranian culture, it's weird; if you're familiar with Iranian culture, it's weird. Regardless of how familiar you are, it's always good to be fresh with your words of affection. To help with this, we put it out to our listeners — asking them to provide us, and you, with the freshest and sweetest of Iranian sweet-talk. Alongside this sweet-talk master-class, we also let you know why this practice is such an important part of Iranian culture. So, if you're ever thinking, how do I sweet-talk an Iranian?
Questions we get answers to in this episode
Will Iranians actually eat your liver?
Do other nationalities, like the Russians and French, use sweet-talk?
Is it true that the Iranian youth show affection by swearing at you?
Where can I go to get the best Iranian street-food, like liver?
Do Iranians actually like all this mushy sweet-talk?
Where can I buy an Ask An Iranian, "jigaram" (my liver) t-shirt?
---
Music credit: "Mahvash, Parivash", Jalal Hemmati
Read more and find the links on ASKANIRANIAN.COM
Check the merchandise out on ASKANIRANIAN.COM/SHOP