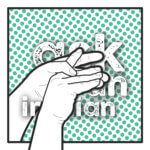 It goes without saying that Iranians invented pretty much everything, ever! So it shouldn't come as a surprise that the two-handed finger-snap is better known as the Iranian finger-snap. This method of finger-clicking is not only different, in that it requires two hands, but it's different in that it's loud! In fact, if you listen carefully, you'll currently hear several Iranian grandmothers, sat around a room, finger-snapping to Persian pop music, while their grandchildren do the shoulder shimmy. To help you learn more about the Iranian two-handed finger-snap, or the 'beshkan', as it's known in Persian, we devoted an entire episode to it. Listen to us, and friends of the show, give their examples of 'beshkans' and listen to learn how you, too, can 'beshkan'. So, do Iranians do it louder?
Questions we also get answers to in this episode
Do Iranians snap louder than the Arabs, Turks and everyone?
How do I do the Iranian two-handed finger-snap?
Is the African snap, immortalised by Ali G, louder than the Iranian snap?
Is there a place in Tehran that is named after the Nazis?
---
Music credit: "Mahvash, Parivash", Jalal Hemmati
Image credit: Picture of Cyrus the Great (contact us for information or credit), edited by Ask An Iranian
Read more and find the links on ASKANIRANIAN.COM
Check the merchandise out on ASKANIRANIAN.COM/SHOP