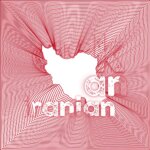 Are you bored with the long-running spat between Iran and everyone? Us neither! It's so long-running that academia has kinda coined a word for it. Yes, don't be surprised if you later find out that some Iranian, in some Western university decided to summarise all this hoohaa as "geopolitics". Anywhats, who does geopolitics better than academia? Well, Michael does! The Red Line podcast is Michael Hilliard's baby, and it's grown up fast. This "deep-dive" political podcast recently surpassed 1m downloads — impressive for a show that is just a year old.
Michael kindly took a break from interviewing high-profile brainy sorts to chat with us. He joined us to discuss his visit to Iran, as well as how he feels America will politically navigate between the '20-'21 elections of America and Iran. He also tells us about his love for Iran, Iranians and their ice-cream (his word!). So, if you wanna know what the deal is with Iran, or learn a little about the 'Iran Deal', be sure to listen to this episode.
Questions we also get answers to in this episode
Can you navigate the Tehran Grand Bazaar using the stars?
What serious hard-hitting geopolitical podcast should you listen to?
Is Iran trying to kill the West through overfeeding it?
How many different animals have bitten Michael Hilliard, to date?
Is the Caspian Sea warm, wet and salty?
Find The Redline:
The Red Line on Apple Podcasts
https://www.theredlinepodcast.com
https://twitter.com/TheRedLinePod
---
Music credit: "Mahvash, Parivash", Jalal Hemmati
Image credit: Iranian map and the multiple red lines surrounding it, made by Ask An Iranian, 2021
Read more and find the links on ASKANIRANIAN.COM
Check the merchandise out on ASKANIRANIAN.COM/SHOP