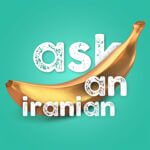 In Iran we don't refer to somebody as the special child of a family — we refer to them as the golden willy. And, we think that's cute, if not a little sexist. Fret not though dear sisters, because this is not considered a compliment. A golden willy, or"dodool talā" as we say in Persian, can also be described as a mummy's boy. For a gender-neutral term, we say "bache naneh" to imply that a person is spoilt. Now, are there multiple terms in Persian for this because Iranian men are mostly mummy's boys? Seemingly yes — but hear us out.
Once again—and by popular demand—we invited Shanay to join us and share her perspective. Yes, we couldn't go into a matter concerning Iranian men, without an Iranian women's perspective. We're not necessarily suggesting that Shanay knows more about golden willies than we do… but we kinda are.
Don't just listen to us though! No, no! Among other related questions, we put it out to our Iranian audience and asked them whether Iranian men are mommy's boys. The results were more frightening than we expected — yes, you were warned. So, wanna know if, how, and why Iranian men have a complex relationship with their mothers.
Questions we also get answers to in this episode
Why are Iranian men mummy's boys?
What is the Persian (or Farsi) for mummy's boy?
Do Persian women (Iranian women!) like mummy's boys?
Why do Iranian mother make "mama's boy"?
Is it the fault of Iranian mothers that Iranian men are spoilt?
What does Maz Jobrani have to say about "mommy's boys"?
Do Persian girls get put off by dating mummy's boys?
What does "doodool tala" mean?
---
Music credit: "Mahvash, Parivash", Jalal Hemmati
Image credit: 3D golden banana on a turquoise background, created by Ask An Iranian.
Read more and find the links on ASKANIRANIAN.COM
Check the merchandise out on ASKANIRANIAN.COM/SHOP