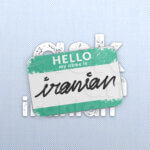 What is the sweetest, most important sound in any language, and why does it have so many variations? Well, according to Dale Carnegie, writer of one of the most popular 20th-century books, that sound is the sound of your own name. If you're new to Iranian names though, you'll likely be making them sound less sweet. Fear not though, this episode can help remedy this, while also enlightening you on the many odd things there are to know about names given to Iranians. In fact, you don't need to be non-Iranian to enjoy this one, because we asked our listeners to tell us, "what are the weirdest Iranian names?" The results were… well, weird. Listen here to learn more.
Questions we also get answers to in this episode
What names should you not give your Iranian child?
Why do Iranians have double-barrel first names?
What types of names cannot be used for your child?
If you're name is Negar, what name will they force you to change it to in the West?
---
Music credit: "Mahvash, Parivash", Jalal Hemmati
Image credit: Name tag with Iranian written on it, created by Ask An Iranian
Read more and find the links on ASKANIRANIAN.COM
Check the merchandise out on ASKANIRANIAN.COM/SHOP