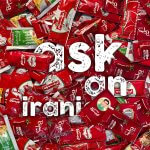 Catering to 8.5m Tehran residents with increased exposure to, and an increased expectation for international dishes is tough. Although tough, it's also been one of the reasons behind the capital's recent restaurant industry boom. Yes, part of this boom has been accompanied by Iroonianising the hell out of well known international dishes, but you gotta do what you gotta do. To help us get a taste of what Tehran has to offer, as far as Iroonianised international dishes, we invited the Tehran Taster on to the show. Fareed set up the Tehran Taster Instagram page, four years ago, as a means to expose and educate Tehranistas concerning international cuisines. To do this, Fareed calls upon his twenty-plus year's experience gained through his involvement with 103 restaurants around the Middle East. Using this experience, he now brings daily content to a mostly Iranian audience of around 110k. After our discussion about food and social media influencing, we had Fareed join us for a slightly different taste-testing experience. So, to know what the results of that were, and to answer the question, "what does Tehran tastes like?", read more on our website…
Questions we get answers to during this episode
Why do Tehran restaurants always add a cherry tomato on top of dishes?
Is there a China Town in Tehran, Iran? [not yet!]
Which popular restaurants should I visit in the Tehran Grand Bazaar?
How has Iran's restaurant industry changed in the last few years?
Which regions are known for what flavours in Iran?
What social media platforms do Iranian influencers mostly use?
How do I become a successful social media influencer?
What is the Iranian drink, doogh made of?
Who does it better, Tehran Taster, or Mr. Taster?
https://www.instagram.com/tehran.taster/
https://www.instagram.com/tasting_kitchen/
---
Music credit: "Mahvash, Parivash", Jalal Hemmati | "The Elevator Bossa Nova", Benjamin Tissot (also known as Bensound) https://www.bensound.com
Read more and find the links on ASKANIRANIAN.COM
Check the merchandise out on ASKANIRANIAN.COM/SHOP