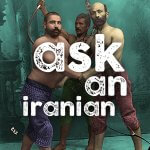 In this episode, we were delighted to be joined by Mr Yoshioka, a Japanese expat currently living and working in Iran. Against his better judgement, we wanted to sit, eat Iranian-made sushi, and chat about his experience of living and working in Iran.
We also get answer to the following questions…
What do Japanese people think of Iran and Iranians?
Are there Japanese restaurants in Iran?
What types of sushi do Japanese people normally eat?
What do the names for different types of sushi, such as 'maki', 'hoso', 'nigiri' and 'sashimi' translate as?
Which restaurant makes the best sushi in Tehran, Iran?
How should I hold chopsticks?
How much soy sauce is too much soy sauce?
Which type of doogh (Iranian yoghurt drink) is better, fizzy or still?
What do Japanese people think about Iranian-made sushi?
---
Music credits: "Mahvash, Parivash", Jalal Hemmati | "Cherry Blossom", Ancient traditional samurai koto music.
Read more and find the links at: ASKANIRANIAN.COM
Check the merchandise out on: ASKANIRANIAN.COM/SHOP