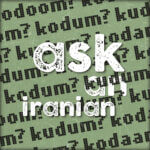 You make sounds — mouth sounds. You make them with intention because you probably want to ask your Pilates instructor if you can swap Tuesdays for Mondays. Other peoples do this, but with different mouth sounds — mouth sounds that have gradually found characters, and gradually become alphabets. This is pretty handy because it'll help you kinda figure out the intentions of peoples with very different mouth sounds.
Pingilish (or Fingilish) is the Romanisation of the Persian (or Farsi) language. It can help you figure out the response of your Iranian pilates instructor. So, assuming you have no grasp of the Persian alphabet but share an understanding of those mouth-sounds — "aakhey!" — Tuesdays get swapped for Mondays.
In this episode, we discuss how Pingilish (or Fingilish) came into use, and why it's kinda going out of use. We also get into which Persian phonemes can have which Latin characters, because yes, there is no standard. So, wanna learn what Pingilish (or Fingilish) is and how to use it.
Read more here: https://askaniranian.com/fingilish-or-is-it-pingilish
Questions we also get answers to in this episode
Which is correct, Pingilish or Fingilish?
Why is the word Tehran written differently in different places?
Which should I use, "oo", "ou"?
Why do Iranians write using the Arabic script?
Which should I use. "ee", "ei", "i" or "y"?
How does Persian and Arabic pronunciation of the alphabet differ?
Are there capital letters in the Persian or Arabic script?
---
Music credit: "Mahvash, Parivash", Jalal Hemmati
Image credit: The Fingilish or Pingilish word for "which", written in many Romanised ways, and styled like an old Nokia mobile phone. Designed by Ask An Iranian, 2021.
Read more and find the links on ASKANIRANIAN.COM
Check the merchandise out on ASKANIRANIAN.COM/SHOP