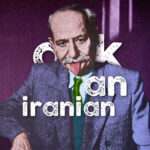 You might say you speak German, French, or Swahili, but you never say you speak Deutsch, Français, or Kiswahili. This is the logic behind people saying they speak Persian—when saying it in English—as opposed to saying they speak Farsi. Why let logic get in the way of your "feels" though?! You call it what you want! Farsi or Persian, Parsi or Iranian, who cares?! Oh, we do, kinda — enough at least that we'd make a podcast episode about it.
To help us get into this much contested topic, we sought the help of a popular language enthusiast. We called upon Canada-based Iranian, Bahador Alast, to help us clear this one up… for now at least. Since 2013, Bahador has invited many international guests on his YouTube channel to talk with him about similarities between languages. Up until late 2021 these videos have been seen around 45m times.
So is it Farsi, or is it Persian? Listen to this episode to hear our take — then come for us in the comments.
Questions we also get answers to in this episode
Which is correct, Farsi of Persian?
What percentage of Iranians refer to it as Farsi or Persian?
Is it not better to refer to Persian as Parsi?
Follow Bahador Alast:
https://www.instagram.com/BahadorAlast
https://www.youtube.com/c/BahadorAlast
---
Music credit: "Mahvash, Parivash", Jalal Hemmati
Image credit: Ali-Akbar Dehkhoda, Iranian linguist and author of the Dehkhoda dictionary – edited with the tongue of Albert Einstein – Ask An Iranian, some rights reserved – 2021
Read more and find the links on ASKANIRANIAN.COM
Check the merchandise out on ASKANIRANIAN.COM/SHOP