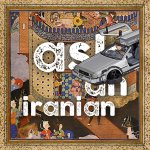 Nothing about how Iranians perceive time correlates with universally understood principles. Regardless of whether it's years, calendar events in the year, months, weeks, days, or even moments, Iranians will do time differently. So be warned, don't plan a meeting, don't arrange a surprise birthday party, and don't arrange a date with an Iranian until you've heard what we have to say on the matter. Listen in to learn more about why Iranians seem to live in another time.
Questions we get answers to during this episode
Why are the days for the weekend different in Iran and what are they?
How many days are there in the working week in Iran?
What year is it in the Iranian calendar and why is it different?
How many different calendars do Iranians observe?
When is the Iranian New year, or Norouz?
What is the Yalda celebration in Iran and when does it happen?
When do Iranians prefer to celebrate their birthdays?
Why are so many Iranians seemingly born in September?
If I arrange a meeting with an Iranian, why should re-confirm it?
---
Music credit: "Mahvash, Parivash", Jalal Hemmati
Read more and find the links at ASKANIRANIAN.COM
Check the merchandise out on: ASKANIRANIAN.COM/SHOP