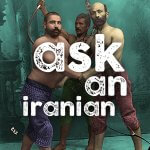 So, we recently learned that you can make a living, sitting on your behind and shooting at virtual characters… even in Iran. To help us get out heads around this, we chatted with 'Yeggiz', an Iranian gamer girl, who is doing just that. Unperturbed by the many issues faced by Iranian gamers, she's been gaming, streaming, and vlogging since the pandemic hit. We invited her on the show to not only help bring us up to date but to also help our audience understand the fun and the frustration of gaming in Iran. So are Iranian girls players? Read more here.
During this episode we also get answers to these questions
Is during a pandemic the best time for Iranians to get married?
Are Iranian girls players?
Is mobile-gaming considered gaming?
What does FPS mean in gaming = "First Person Shooter"
What e-sport games can I get contracts through?
Do Iranians actually really shoot real living people, outside of games?
How do I make money as a gamer in Iran?
What technical issues do Iranians face when gaming in Iran?
How have sanctions against Iran effected gamers in Iran?
Who is Kevin? [unfortunately left unanswered]
Follow Yeggiz, an Iranian girl-gamer
If you're interested in learning more about our guest in this episode, you can follow Iranian gamer girl Yeggizz on Instagram and follow Yeggiz on Twitter. If you're more of a gamer, you might want to follow Yeggiz on Twitch, or follow Yeggiz on Discord. Alternatively, you can follow Yeggiz on YouTube.
---
Music credit: "Mahvash, Parivash", Jalal Hemmati | "Prince of Persia", from the video game Prince of Persia – 1989 Francis Mechner
Read more and find the links on ASKANIRANIAN.COM
Check the merchandise out on ASKANIRANIAN.COM/SHOP