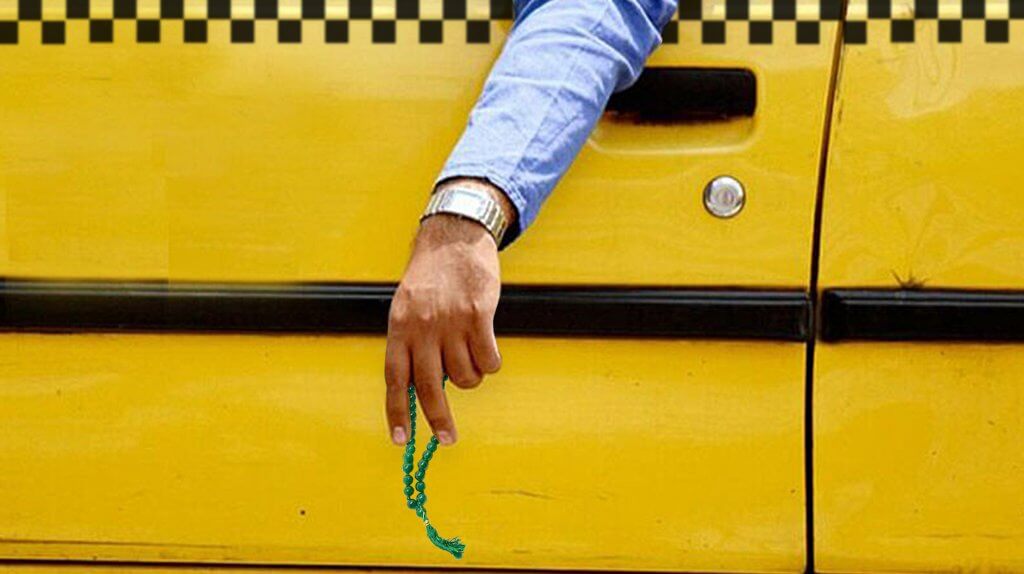 Taxi trips are more than just a means of getting from A to B — they are about the experiences on the journey. Taxi trips in Iran however, are somewhat similar and somehow different. On a taxi journey in Iran you'll likely be taken through the entire alphabet, but you can at least hop out happy, knowing that you're now 'au fait' on the latest happenings. This is because Tehran's taxi drivers are the most up-to-date resource for politics, the exchange rate and the latest conspiracy theories in Iran.
To help you have a better experience of getting around Tehran in a taxi, we invited Shanay on the show to share some of her experiences. Shanay is half Iranian, half Austrian and has recently moved to Iran to embark on a restoration project. During our discussion with Shanay we also reveal top tips on how to get a taxi in Tehran, where to get it and how to interact with the drivers. So, taxi stories… what's Tehran got? Listen to this episode to find out.
Questions also get answers to during this episode
What happens when you talk too much in a Tehran taxi?
Will Iranian taxi drivers screw me over on journey prices?
What different types of taxis are available in Iran?
Are there Iranian taxi apps like Uber?
How do Iranian taxis look on the inside and out?
Has Chris de Burgh ever had a concert in Iran? [no]
What type of music do Iranian taxis drivers like to listen to?
What ways did Iranians use for getting taxis before taxi apps existed?
Are there any Iranian taxi related films?
When Iranians drive up and down, which direction are they going?
Can I get a taxi in Iran using an app?
One important question that visitors to Iran will have is, is Uber—or an equivalent—available in Iran? Yes, there are several ride hailing and taxi apps available in Iran — most of which are also available in the English language. Some of these taxi apps are also available in other major cities around Iran, such as Mashhad, Shiraz, Isfahan, Tabriz. These apps offer services in more than 140 cities, from all 31 provinces of Iran, and are available 24/7.
List of ride hailing and taxi apps available in Iran
FAQs about taxi apps in Iran
What do I need to start using an Iranian taxi app?
Answer: you'll need an Iranian mobile number… oh, and a mobile phone.
How do I pay for a taxi journey using an app in Iran?
Answer: you can pay by cash, or using the app's online payment method if you have access to a local bank account that can be used online.
How much does a taxi journeys cost in Iran?
Answer: it's complicated. Due to inflation, it's not easy to list a set price here, but as of publishing (November 2020, where the street exchange rate is around 270,000 Iranian Rials to one USD), prices can range from 100,000 Iranian Rials (10,000 Tomans) for a short journey, to 300,000 Iranian Rials (30,000 Tomans) for a cross-city journey. Expect to pay more during peak hours. These prices may increase by 20-30% year-on-year.
Do taxi apps in Iran use the English language?
Answer: yes, most taxi apps in Iran have the option of the English language.
Can I get a taxi at an Iranian airport, using an app?
Answers: yes, taxi apps in Iran have drivers available at major airports, 24/7. On occasion, taxi drivers are unable to stop at the pick-up/drop-off point, so they may call you to ask you to come a little further out to find their car.
Can I get a women-only taxi in Iran, using a taxi app?
Answer: maybe, for example Snapp had previously offered 'Snapp Rose', for women only, and with women drivers. Until recently (as of November 2020), this service was available. This option may return, so please check with Snapp.
Do Iranian taxi drivers speak English?
Answer: in most cases, no. Drivers will likely call you to ask specifically where you are, but don't worry, just answer the call and say hello. When the driver realises you can't speak Persian, he/she will likely go to the pin location. Should your driver not be able to locate you and you are unable to understand one another, it might be best to cancel the request and start again, but from another nearby location. Helpful tip: if you can get the destination address written down for you in Persian, you can show it to the driver to help him/her better locate it.
Are taxi apps in Iran safe to use?
Answer: we believe so! The taxi app operators vet their drivers. If you search hard enough, you might read about an incident or two, but they seem to be very, very rare. We don't believe you have a reason to be concerned.
Should I tip my taxi driver in Iran?
Answer: sure, but it's not expected.
Can men and women travel in taxis together in Iran?
Answer: of course! Keep you hands to yourself during the journey though!
What types of taxis can I get in Iran?
There are a variety of different ways you can get a taxi in Iran, and although taxi apps in Iran are available and widely used, this might not be the best method to get around. To help you out with the many other types of journeys, we've listed the various other methods, providing additional tips on how to best interact with the drivers.
List of different types of taxi journeys in Iran
"Savaari" – to get a taxi going further up the road
For this journey, simply stand on the side of the road, and taxis will beep their horn before pulling over to pick you up. Say, "moostaghim" [straight ahead] and then get in. Let the driver know just before you're at the point you want to get out at by saying, "piaadeh misham" [I'm getting out], then pay before exiting.
"Khati" – to get a taxi between set locations
For this journey, you should go to designated pick-up point and you'll travel to a designated drop-off point. You can usually find them by listening for city locations being shouted out by drivers on the street. These types of taxis have set prices. Pay the taxi driver before, during or after the journey.
"Dar bast" – to get a taxi to a specific location, alone
For this journey, simply stand by the side of the road, and taxis drivers will beep their horns before pulling over to hear your journey request. You'll immediately say, "dar bast" [could be translated to "door closed"], to indicate that you won't share the journey with another passenger. Say your destination name and ask how much it will cost, "cheghadr misheh?" [how much will it be?]. Never get in the car until you've negotiated the price. Expect them to quote twice the journey's usual cost — offer half! This method is maybe the most expensive way to get a taxi in Iran — be warned. Pay on arrival.
"Aajaans" – to order a taxi to pick you up
For this journey, you'll need to know the telephone number of a local taxi agency, or you'll find the office on the street. Tell them your journey start point and destination name, then ask the price "cheghadr misheh?" [how much will it be?]. The taxi driver will come to pick you up and drop you off. Pay on your journey or on arrival.
"Internetee" – to use an app to order a taxi, like Uber for example
For this journey you'll need an Iranian mobile number so that the taxi apps can verify you. To install the app, Android users should search on any app provider, and Apple users should go to the app's website (Snapp or Tap30) to install a web-app. Follow the instructions on the app after this. Payments can be made in the app via a local bank's online transfer, or in cash to the driver.
To get a taxi between distant cities – "terminaal"
For this journey, you'll need to go to designated areas where taxis travel inter-city. Tehran's main inter-city taxi terminal can be found at Azadi West Terminal. There are several other inter-city taxi points around Tehran city — simply check this link on Google Maps. Tickets for journeys can be purchased at the ticket office, in advance. Taxis to the neighbouring city of Karaj can be got from multiple locations, including Vanak Square, Azadi Square and Enghelab Square.
"Seiro Safar" – to get a taxi to and from any Tehran airport
For this journey, you'll need to telephone the company Seiro Safar. The service is currently only available in Tehran. Its taxi drivers work 24/7 and will come and pick you up whenever and wherever you want. Payments can be made on the journey or on arrival to your destination. Tips might be expected. Should you not be able to use this service for any reason, you can call 133 for a similar service, but get an Iranian to help you arrange the journey, because they don't seem to speak English.
"Baba joon" – to get a free journey to anywhere in Iran
For this journey you'll need to have an Iranian father, and little respect for his precious time.
For a nice little write-up on everything you need to know about taxi journeys in Iran, please follow this link. Alex Reynolds has done an amazing job of summarising all you need to know on the matter. Great work Alex!
How do I follow this episode's guest, Shanay, online?
If you'd like to follow our guest and maybe see how her restoration project is going, you can follow Shanay on Instagram, here.
Translations of Persian (Farsi) words during this episode
| Persian (Farsi) | English translation |
| --- | --- |
| Azizam: | "Darling" |
| Khosh aamadi: | "Welcome" |
| Mamnoon: | "Thanks" |
| Boro baba: | "Go dad" – used to mean, "get out of here!" |
| Che khabareh: | "What's the news" – used to mean "what the f@_k?!" |
| Foozooli: | "To be nosey" |
| Khak bar saram: | "Mud over my head" – kinda meaning, "bury me… I'm ashamed" |
| Baghaali: | The Persian term for a local convenience store |
| Mohandes: | "Engineer" – sometimes used as a title of respect to non-engineers |
| Masee.hee: | "Christian" |
| Be khodaa: | "I swear to God" |
| Boro gom sho: | "Get lost" |
| Nemidoonam: | "I don't know" |
| Saraafi: | Money exchange office |
---
Photo credit: please help us credit the original photo by telling us who did it. Photo edited by Ask An Iranian.