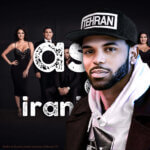 Colour plays an important role in the social hierarchy, and it's important that everyone knows their place. Such social constructs play an important part in elevating the important people above the lower-level nobodies. Using this construct we wanted to elevate ourselves, which is why we wanted to have a certain guest on the show. This guest, among other many great things, is universally known for his colour. Tehran Von Ghasri is a "blue-tick" American-based comedian and was kind enough to give us lower-level, non-"blue-tick" Twitter people, an education as well as a little elevation. During our humourous discussion, Tehran talks about his tribulations with social constructs, the Iranian community and their social hierarchies, as well as contemporary shifts in comedy. So, be sure to listen to this episode — we hope you'll enjoy it as much as we enjoyed making it.
Questions we also get answers to during this episode
Why does Tehran Von Ghasri wear a bathrobe?
Which Persians are better than other Persians?
Who are the up-and-coming Iranian comedians, according to Tehran?
How does Tehran Von Ghasri identify and what are his pronouns?
What advice does Tehran have for those wanting to date a Persian girl?
Is the Iranian tradition of dressing up as Huji Firooz, racist?
Are wokeism and cancel-culture changing comedy?
Why do Iranians blackface?
Follow comedian, Tehran:
https://www.instagram.com/iamtehran
Read more about this conversation on:
https://askaniranian.com/why-do-iranians-blackface-feat-tehran-von-ghasri
---
Music credit: "Mahvash, Parivash", Jalal Hemmati
Cover Image of Shahs of Sunset courtesy of Bravo TV, edited by Ask An Iranian
Read more and find the links on ASKANIRANIAN.COM
Check the merchandise out on ASKANIRANIAN.COM/SHOP