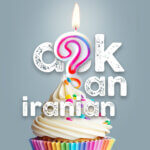 Birthdays happen to the best of us, and Iranians are no exception. To make things worse, these yearly occurrences won't just happen once a year — no, no… Think about it, there are many Iranian birthday parties. There's your parents' birthdays, your aunts' and uncles' birthdays, your work chums' birthdays, and maybe even your pets' birthdays. In fact, chances are that you're planning for a birthday, or even an Iranian birthday, right now!
Celebrations for birthdays are somewhat similar around the world, in that we make a fuss for the ones we love. Yes, every culture makes its own fuss in its own way, so we thought that we'd make a fuss, about how Iranians make a fuss.
Listen to learn more about Iranian birthdays
If you're learning about Iranian culture, or happen to be surrounded by Iranians, then learning about Iranian birthdays is kinda important. Knowing how to say "happy birthday" in Persian (Farsi) and when to say it is a good start, but we recommend you learn a little more. Also during this episode, we teach you what gifts to get Iranians on their birthdays, and how they will be received during an Iranian birthday party.
For all the above, and more, be sure to check out this episode.
Questions we also get answers to in this episode
How do I say "happy birthday" in Persian (Farsi)?
What food is normally served at an Iranian birthday party?
Do Iranians throw surprise birthday parties?
Are alcoholic beverages served at Iranian parties?
Do Iranians have themed birthday parties?
Why do Iranians dance with a knife when a birthday cake is presented?
Do Iranians get gifts for colleagues?
Why do Iranians say their age in really weirds ways?
Who wrote the Iranian birthday song?
Why are so many Iranians born in September?
---
Music credit: "Mahvash, Parivash", Jalal Hemmati
Image credit: Colourful cupcake with a question mark for a candle, created by Ask An Iranian, 2021.
Read more and find the links on ASKANIRANIAN.COM
Check the merchandise out on ASKANIRANIAN.COM/SHOP