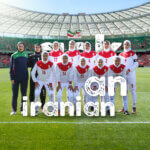 In 2005 our guest, Katayoun Khosrowyar, arrived in Iran, fresh-off-the-boat and completely unaware of how her visit would change the direction of her life, as well as the lives of other Iranian women. This isn't because she turned up without a headscarf and had to borrow another woman's, but more because of her role in shaping women's football in Iran.
Questions we also get answers to in this episode
What clothing do Islamic women wear when playing football?
Can women watch football in a stadium in Iran?
Why was the Iranian women's football team forced to forfeit the 2012 London Olympics?
Who is the top international goalscorer in football?
Did Iran have a women's football team before the Iranian revolution?
How supportive are Iranian families and institutions with women in sport?
Are earthquakes caused by women playing sports?
Find Kat Khosrowyar on Twitter and Instagram
---
Music credit: "Mahvash, Parivash", Jalal Hemmati
Image credit: Iranian women's under 19 national football team – with coach Katayoun Khosrowyar. Image heavily doctored by Ask An Iranian, using a background image of Kiev stadium.
Read more and find the links on ASKANIRANIAN.COM
Check the merchandise out on ASKANIRANIAN.COM/SHOP