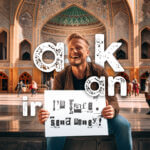 You have lots of questions about Iran, we know! One of which—maybe the third—is likely to be, "Is it safe to visit Iran?". If you ask us, we'd say yes. If you ask your Home Office, they'd say no. Sure, it's complicated, and if you're reading this any time between 1979 and 2029, it's even more complicated.
Disclaimer about whether it's safe to visit Iran:
We do not, and will never, advocate any travel that contravenes the travel advice provided by your nation's Home Office. Information about travelling to Iran is constantly changing, so always consult with the relevant authorities before making any plans. Travelling to and inside Iran can be risky, possibly more riskier than visiting London. Don't say you weren't warned.
Questions we also tackle in this episode:
How safe is it to travel to Iran?
Who is Micheal of The Red Line podcast?
Where is the Island of Qeshm?
What is Stabberstan?
What language do they speak in Australia? (spoiler, it's not kangaroo)
Is George an Iranian name?
What does it take to get you jailed in Iran?
What should I do when the Iranian police want to delete photos from my SD card?
Who is TikTok for? (spoiler, it's commie kids)
Are people and government the same?
Are politics and religion the same? (they are in Iran)
Is it safe to travel as a tourist in Iran?
You can find Daisy on Instagram: https://www.instagram.com/d_lorenzi/
And Michael's podcast can be found here: https://twitter.com/TheRedLinePod
And you can read more here!
Music credit: "Mahvash, Parivash", Jalal Hemmati | "Ask An Iranian Outro", The Devildog
Image credit: European tourist begging for help in a fictional traditional Iranian setting, made using images generated with MidJourney and edited specifically for Ask An Iranian, 2023.
Read more and find the links on ASKANIRANIAN.COM
Check the merchandise out on ASKANIRANIAN.COM/SHOP